Developing the Next Generation of Group Personnel
Systematic Development of Management Personnel
Since fiscal 2019, we have established a new Career Development Management Program, a training program to systematically and strategically develop the next generation of personnel.
We aim to develop personnel that can think and act with a broad perspective and outlook that exceed the bounds of their own areas of specialty and roles by selecting and recruiting young and mid-level personnel to attend business school and engage in professional exchange with people outside of their own business divisions, factories, and business units, engage in personal exchange with overseas subsidiaries and Japanese subsidiaries, and engage in cultural exchange through placement outside of the Group and at government institutions, etc.
We have further added a young employee program to selective training in order to systematically develop the next generation of management personnel.
In addition, we increase creativity and foster innovative mindset through absorption of diverse knowledge and broadening experiences, by introducing the Innovation Professional Development Program for the next generation of management and using professional development measures to provide experience in new areas.
Systematic Development of Management Personnel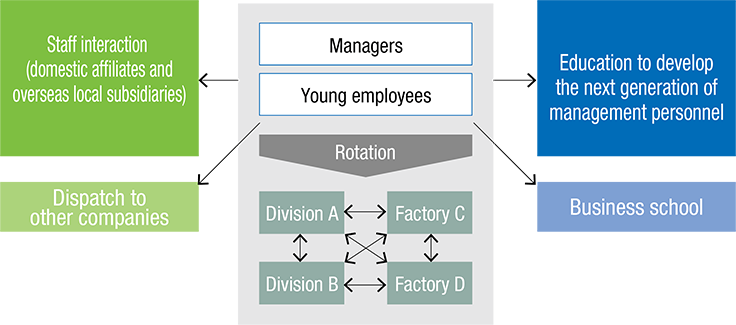 Local Staff Development
Since fiscal 2018, the Meiden Group has been conducting a Japanese exchange program for local staff (employees of overseas subsidiaries) in order to develop personnel who are candidates for leadership positions at overseas subsidiaries. The program includes interaction with Meidensha management, observations at Japanese sites and factories to which products are delivered, and on-the-job training at various workplaces for the purpose of increasing preparedness to take on leadership roles and the knowledge necessary for top management positions in the Meiden Group. This Group-wide interaction of personnel and creating personal connections bring the Meiden Group together.