Initiatives


Initiatives to Improve Quality
Improving Product Development and Design Quality through Mechanisms to Incorporate Quality and Multifaceted Design Reviews (DR)
The Meiden Group has determined items that need to be managed from the perspectives of "no defective unit accepted," "no defective unit made here," and "no defective unit shall leave here," in order to improve quality in each internal process, such as development, design, manufacture, testing, and inspection, including purchasing parts and materials, etc., from affiliates, and we conduct activities accordingly.
DR (Design Reviews)
In particular, we are strengthening activities relating to the quality of such development and design that has the risk of a defect with potential widespread influence.
The main content of those activities is as follows.
3H Measures
Specific risks increase if one of the three elements (3H: Hajimete "first time," Henkou "change," Hisashiburi "first case in a long time") is applied to the four main elements of manufacturing (4M: Man, Machinery, Method, Materials). Therefore, we identify these three elements and consider them through DR, etc., and respond to them in advance, which leads to reduction of risk.
Risk Map
A risk map is used to assess the level of risks, and create a mechanism for clearly stipulating the level of DR.
Improved Quality of DR (design review)
Experts in each product field are nominated each time DR is conducted and these experts have a duty to participate in DR. With their involvement, we create an environment where extensive content is considered and risks can be identified, which results in high-quality DR. Furthermore, in order to facilitate nominating and requesting the participation of experts in DR throughout the organization, we have published a company-wide list of experts.
Management of Remaining Work for DR
We have created and we implement and strictly manage a system of notifying managers and administrators of remaining items so that processes do no proceed without resolving matters that have been identified and matters that require consideration, etc., through DR by the deadline that has been set, in order to reduce the risk of defects arising from unresolved matters.
Applying Lessons from Past Defects
We have created and operate a system to convert information about trouble that has arisen into easily applicable knowledge and to facilitate the accumulation and application of this knowledge. We then apply this knowledge to subsequent development and design to ensure that similar defects do not arise in the future.
Establishing and Complying with Standards and Procedures
We comprehensively articulate management items and methods in each process in the Quality Control Process Chart (QC Process Chart) in each process, and we reduce the risk of defects due to disparity between persons in charge by ensuring that required actions are conducted. Furthermore, we encourage filling in the Quality Control Process Chart (QC Process Chart) so that the implementation status can be confirmed by third parties.
Quality Analysis of Parts and Materials to Prevent Defects
At the Materials & Semiconductor Device Analysis Center, we promote activities to improve product quality and prevent defects through analysis and reliability evaluation of semiconductor devices and materials that are used in our products, adopting "improving product quality," "creating new products," and "consideration for the environment" as our basic policies.
If new parts and components such as semiconductor devices are used, they do not only undergo evaluation of variation in electrical characteristics and failure analysis, but (1) they undergo non-destructive inspection, (2) they are removed from packaging and further examined, and (3) the internal structure is examined by taking cross-sections etc., to evaluate whether they comply with internal standards. We also actively work to achieve long-term reliability and have a system of checking the potential effects of a range of stresses such as heat, humidity, and corrosive gasses.
Also, we are improving screening technology for plastics that contain phthalates, in accordance with trends in environmental regulations and amendments to the RoHS directive, in order to provide products that customer can use with confidence.
X ray transmission observation of electronic components
Evaluation of electrical characteristics of semiconductor devices (power device analyzer)
Coexistence of Limit State Design and Product Quality
At the Analysis Center, we conduct research and development relating to improving the precision of vibration analysis and obtaining more material strength data in order to achieve both product competitiveness and product quality through limit state design. If product components are made as small and light as possible, strength can be an issue where it was not in the past. We are therefore improving the precision of vibration analysis by conducting vibration analysis and testing of each component and whole product. We have also introduced high-speed fatigue testing equipment to obtain more complete strength data for materials such as copper, which is used in heavy electrical products.
For example, when conducting vibration resistant design for the switchboard of electrical equipment, we achieve reliable products by conducting vibration resistance analysis simulations from the initial design stage, and conducting detailed evaluations of equivalent models once design is complete. Furthermore, we conduct evaluation of product life by comparing results of vibration analysis of rotating machinery and materials strength data.
Structure Analysis of Switchboard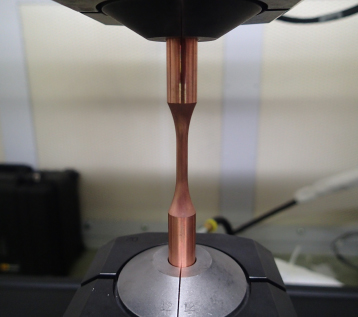 Ultra-high cycle fatigue testing of copper